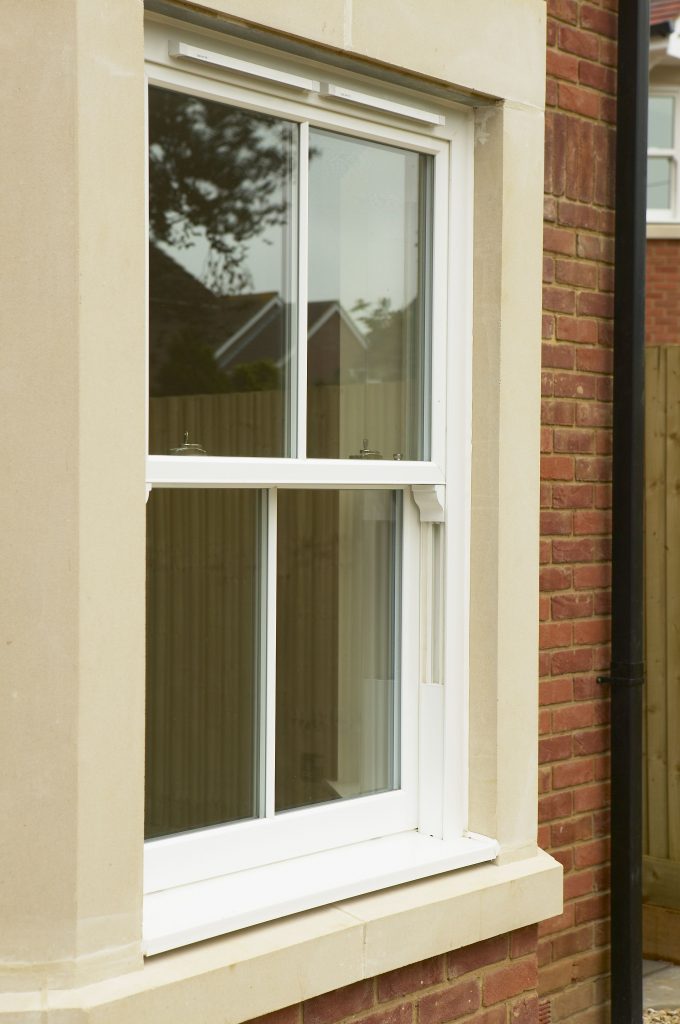 Give your home a new lease of life with GHI's REHAU PVCu windows
The REHAU-Heritage system has been stylishly designed to replicate the slim sight lines and traditional styling details of timber sash windows found throughout the UK.
Modern PVCu technology brings authenticity without the compromise of sacrificing either style or efficiency. PVCu is extremely low maintenance and a very tough material that will hold up even in the most extreme conditions and it's this resilience that also makes it one of the most secure frames you can get.
PVCu needs very little attention and a wipe with a damp cloth is the most maintenance you will most likely ever need to do. An additional benefit of high quality PVCu windows is the incredible increase in sound insulation gained. If you live on or near a busy road or any other source of noise pollution, fitting GHI's PVCu windows could genuinely improve the sound quality in your home. You can also enjoy improved energy saving as PVCu is extremely good at keeping the heat in and the cold out. Upgrading to PVCu double glazed windows certainly helps to deliver a more enjoyable, energy efficient, home.
The REHAU-Heritage Deep Bottom Rail replicates the traditional timber joining detail whilst the Sculptured Glazing Beads and Georgian Bars on the inside of the window add that extra touch of authentic styling
Whilst the product's main focus is authenticity, the system is also capable of producing a modern more contemporary styled product with plainer and simpler design details
Traditional design details and sightlines make the REHAU-Heritage system the ideal replacement sash window
Patented design details provide superb styling
Both weather and security performance are unrivalled with the new design
REHAU is renowned for its quality, which is shown in its gloss finish, providing long lasting appearance and reduced maintenanceGHI's REHAU PVCu casement windows offer a comprehensive range of window styles, suitable for all types of buildings as well as delivering exceptional levels of energy efficiency as well as a choice of aesthetics to be in keeping with your property style.
Available in REHAU TOTAL70 70mm, REHAU Tritec 60mm and Nordic Design Plus, GHI's REHAU PVCu casement windows offer a wide choice of styles and colour finishes, which will fulfil the requirements for a variety of applications both in new build and refurbishment projects.
Casement windows are the most popular style of replacement window in the UK. Its an extremely versatile window that will suit most homes where-ever you live. Featuring fixed panes, top opening fanlights and side opening lights, casement windows can be combined to create an almost limitless range of styles, whilst providing the benefit of noise reduction, low maintenance, safety and security and energy efficiency – all REHAU window systems can achieve an A rating, the highest possible window energy rating. With many additional features such as decorative glass, clip-on Georgian bars, arched head inserts, and run-through sash horns, casement windows can be tailored to your specific requirements and are available in a range of finishes and colours.
Alongside the many aesthetic features available, casement windows manufactured from REHAU profile can accommodate the very latest high performance handles, hinges and locking mechanisms making your casement windows safe and secure.