The Ultimate Conservation Sash Window
Originally a feature of timber sash windows, sash horns were an integral part of the window, designed to strengthen the mortice and tenon joints and prevent the sashes being opened too far.
The advent of PVCu sash windows rendered sash horns redundant; however, 'bolt-on' sash horns were added to match the looks of an original timber window. From more than a few feet away these were absolutely fine, but from close-up the fact that they were extra pieces added on to the window was clear.
Now GHI have gone one step further, by developing run-through horns for our REHAU sash window system.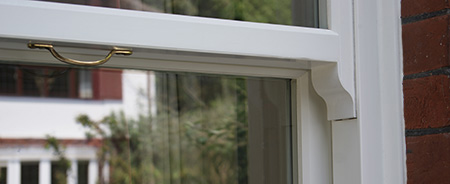 Spot the difference!
By choosing a GHI run-through horn sash window – particularly in REHAU – you're choosing a window that is virtually indistinguishable from the original timber. The following photo shows exactly what we mean – one of the three windows is a GHI PVCu sash, while the other two are original timber; can you tell the difference?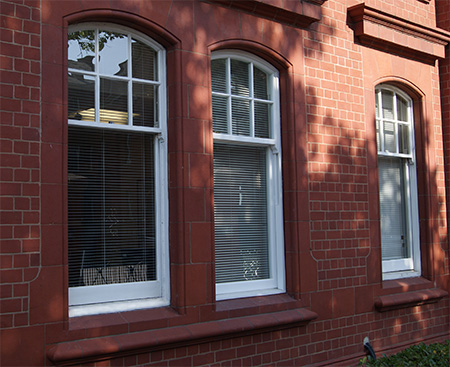 If you didn't get it, the window in the middle is the PVCu replacement. We installed this window as a pilot project, to demonstrate to a local council Conservation Officer just how authentic our REHAU PVCu sash windows with run-through horns can be. As a result, the council in question's planning and conservation department – who'd never previously allowed PVCu sashes – commented on just how impressed they were.
Full conservation pack for REHAU
REHAU PVCu sash windows are already recognised as the most authentic PVCu sash window system available on the market. The addition of GHI's run-through horns to this window – as you can see from the photos on this page – enhance that authenticity even more. But we haven't stopped there – we've developed a full conservation pack for our REHAU windows which, quite simply, take the window to a new level.
On top of the run-through horns, our conservation pack also includes a mechanically jointed deep bottom rail and polished corner welds.
The nature of PVCu means that all the corners on both the window frame and each sash are welded rather than screwed together (mechanically jointed). This makes for a stronger corner joint but – because welds are diagonal and slightly grooved – is slightly difference in appearance from a timber equivalent. To counteract this, in our conservation pack we mechanically joint the deep bottom rail instead of welding. The result is a vertical joint that looks exactly like a timber joint. To maintain the full strength, efficiency and integrity of the window we cannot repeat this process on all the corners, but where we do use corner welds, our conservation pack includes polishing those welds out on the outside face of the window, making them virtually invisible.