Both conservatories and orangeries have evolved over time to add extra space to the home creating the perfect room to overlook the garden.
They are similar in the sense that they both feature glass roofs and a large glass space to allow lots of natural light in, but while a conservatory is mostly made up of windows and frame, orangeries use a combination of brick pillars, glass doors and a roof lantern to become a real part of the home rather than just an extension.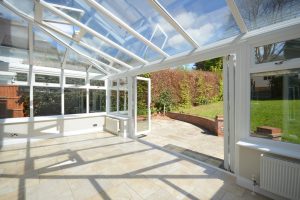 In today's modern space people are turning to orangeries not only to add value to their home but to create that luxurious inside, outside feeling. The additional space an orangery creates in your home is perfect for entertaining on on sunny days and warm summer nights. What's more if the weather is rather unpredictable, within seconds, you can be seamlessly sliding shut the stylish bi-fold doors and finish off your entertaining inside, in comfort.
An orangery is a fantastic extension to your home where traditional features meet real modern living. The orangery originated from the Renaissance gardens of Italy, when glass-making technology enabled sufficient expanses of clear glass to be produced.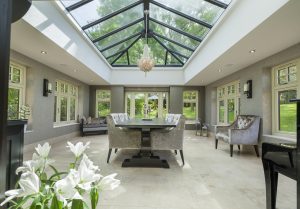 Originally orangeries date back to the seventeenth century, however, the glazed roof, which afforded sunlight to plants that were not dormant, was a development of the early nineteenth century. Orangeries were used to protect orange and fruit trees from the winter months in luxurious residences. When fruit became more reasonable to buy they were then used to store decorative plants and seen as a perfect garden room creating a symbol of status among the wealthy.
Whilst their sense of luxury still remains, they are now ideally used as a room to entertain or dine. The grand, interior height of an orangery and the supreme aerial views achieved with the roof lantern flood adjoining rooms with light creating a stylish ambiance. An orangery can complement different architectural styles more easily than a conservatory so they are often used for a dining area area as they offer more privacy.
With industry leading thermal performance, the modern orangery makes a great versatile room. It offers the shade in the summer and the extra warmth in the winter making it a perfect all year round space!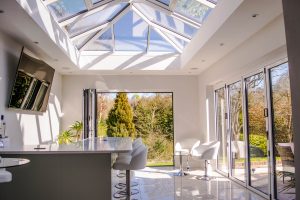 With over 30 years experience in the industry Guild Home Improvements is able to offer a bespoke service to design the orangery of your dreams. We customise every aspect of your project whether it be colour, style or size. GHI orangeries can feature any of our different window, door and roof combinations to really give it the wow factor.
What's more our skilled, knowledgeable specialists at GHI will be able to work with you to create a unique design full of beauty and elegance to provide the perfect space for living or dining.