uPVC Timber look sash windows
Our uPVC sash window epitomises the heritage design philosophy – it's an outstandingly authentic, exceptionally-performing work of art.
Every detail of the GHI timber look replacement upvc sash window has been designed to replicate the charm and character of a timber sash window. With slim timber-like profiles and an industry-leading 35mm meeting rail, no other sash window can compete with it on style and authenticity. And with period features as painstakingly detailed as joinery-style mechanical joints, a deep bottom rail, run-through horns and external putty lines, it would take an expert to spot that it's uPVC.
Add to that the host of benefits that come with modern materials and techniques – from energy efficiency and security, through to sound insulation and low maintenance – and you'll see why the GHI timber look sash represents the pinnacle of uPVC sash window design. It's also why it won New Product of the Year in the prestigious G13 Glass and Glazing Industry Awards.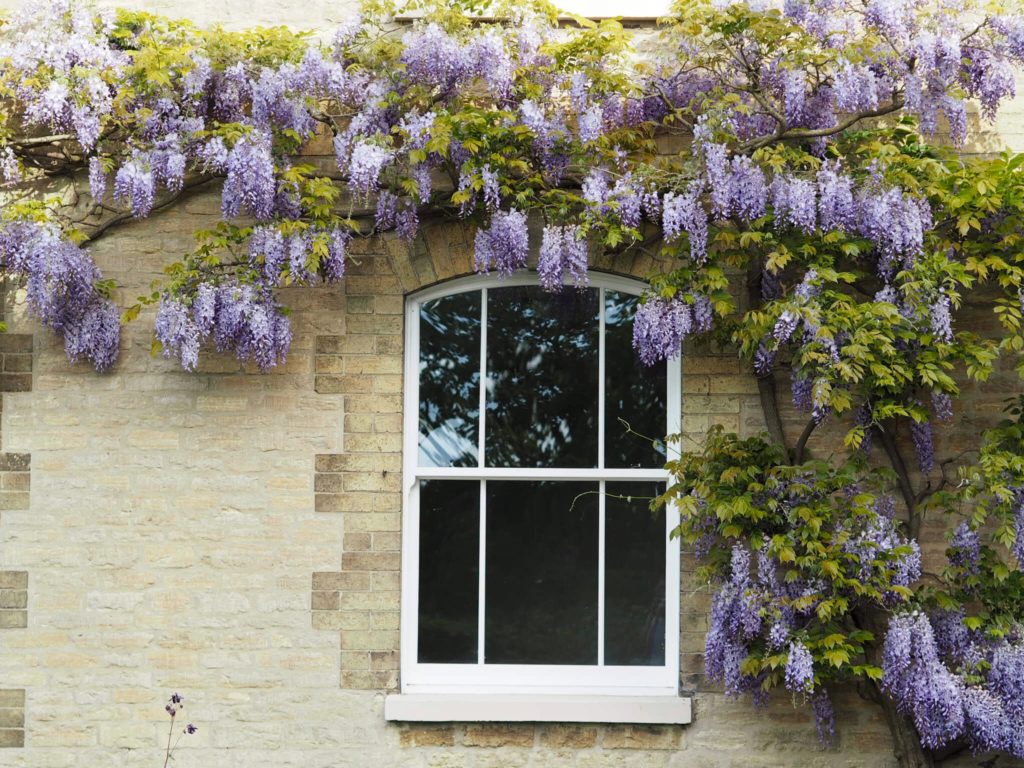 slim meeting rail
At 35mm, our meeting rail is the slimmest on the market.
mechanical joints
No welds, just traditional butt joints, just like timber.
run-thru horns
Single-piece sash horns with bespoke flush end caps.
slim sightlines
The slimmest sightlines of any uPVC sash window.
35mm meeting rail
At 35mm the GHI timber look sash window meeting rail is the slimmest on the market. It's almost 20mm slimmer than the industry standard uPVC sash window.
And by designing our own meeting rail we've also done away with the tell-tale external interlock line. Now the meeting rail looks exactly like a single solid piece of timber.
It's just one more detail that gives the GHI timber look uPVC sash window its authentic appearance and sets it apart from the competition.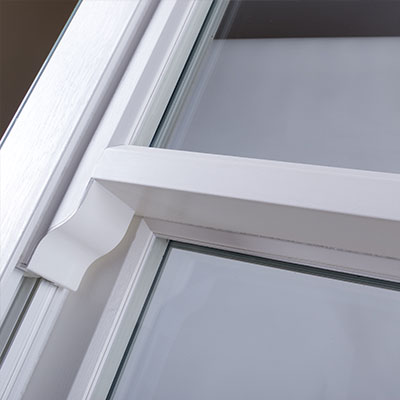 Mechanical joints
You won't find any welds on an GHI timber look uPVC sash window – everything is fully mechanically jointed.
Using our custom-designed jigs, blocks and brackets, every join on the frame and sashes is finished as a butt joint – just like a timber window. What's more, the frame is joined horizontally while the sashes are joined vertically. Not only does this add strength and rigidity, it accurately mimics the way original timber sashes were joined.
It's this attention-to-detail that makes GHI timber look the most authentic, conservation-friendly uPVC sash window on the market.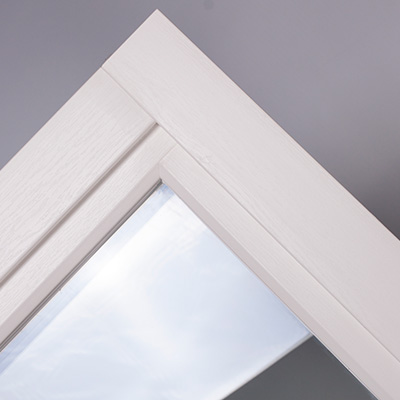 Run-through horns
Several years ago we designed our own run-through horn system, rather than leaving it to the systems companies.
Using a simple and bespoke horn design which – crucially – is topped off with a flush fitting cap, the result is the most authentic run-through horn you can get.
We could have gone down the easy route and designed a bold horn with a "hide all sins" wraparound horn cap. But at Roseview we're not interested in just finding the easiest path; we're about making the best, most authentic upvc sash windows we can.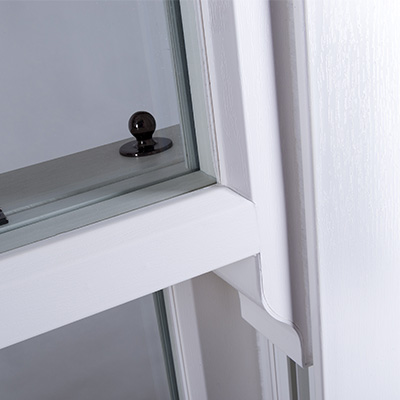 Slim sightlines
The Rehau Heritage VS profile is the envy of the industry, as it has – quite simply – the slimmest sightlines available.
It has flat putty-style external glass lines and subtly-moulded internal ones, which are fully matched on the astragal bars. It also has triple-sealed concealed brushpiles, silver or white gaskets (so that they don't stand out like black does) and an authentic deep bottom rail.
Our unique white gasket and spacer bar finish gives the appearance of a flawless single glazed traditional timber window with the obvious benefits of double glazing.
In short, the Rehau profile is simply the best one on which to base our
GHI timber look uPVC sash windows.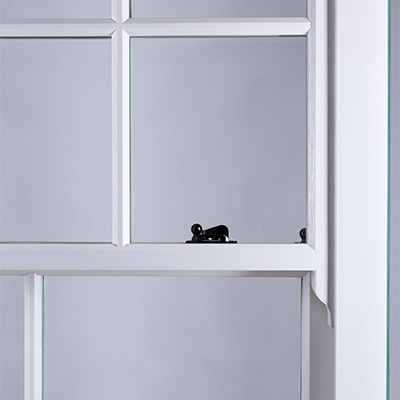 Foiled finishes
GHI timber look uPVC sash window comes in white ash woodgrain finish as standard, but you can also choose from plain white, cream woodgrain, golden oak and rosewood.
On top of that, we can factory-spray the windows in any RAL colour you choose, either all-over or external only.
Whatever colour your customer needs, we can sort it out for you.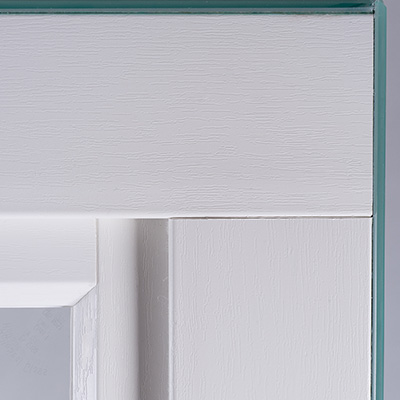 Modern features
GHI timber look has been specifically designed to be the most authentic uPVC sash window you can get. However, that's not done at the cost of modern features and benefits.
These include 'A' rated energy efficiency as standard, enhanced security and excellent acoustic performance helping to block out external noise.
This product allows both sashes to tilt inwards to make them easy to clean from the inside. And best of all, GHI timber look uPVC sash windows are very low maintenance and never need repainting.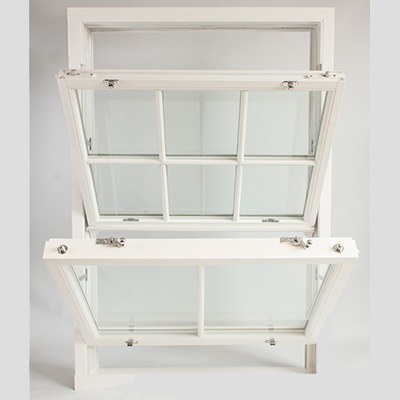 Model details
Standard features
Rehau slim profile
Exclusive 35mm meeting rail
Fully mechanical joints
Run-through horns
Deep bottom rail
Flat external putty lines
Woodgrain finish (white, cream, golden oak, rosewood)
Bespoke globe claw furniture
Torsion balances
'A' rated thermal efficiency
Choice of gasket colours
Flush or projecting cill (225mm)
Tilt-in sashes for easy cleaning
Optional features
Flat white finish
Painted finish (any RAL colour on smooth or woodgrain)
Secured by Design
Limit stops to restrict opening
Slim-mullion option on combination windows
Extreme weather pack
Lifetime Homes pack
Technical details
Maximum width: 1500mm
Maximum height: 3000mm
Frame depth: 137mm
Meeting rail: 35mm
Deep bottom rail: 81mm
Cill depths: 149mm and 225mm
Glazing: 28mm IGUs
Standard finishes: white, white woodgrain, cream woodgrain, golden oak, rosewood
WER energy rating: A
Max width/height and energy rating are dependent on finish and glazing configuration.
Traditional Timber Sash Windows
For unmistakable charm and character we also offer a bespoke timber sash replacement service.
With traditional, British architecture in mind, GHI have ensured that only the most accomplished craftsman within the UK are entrusted with manufacturing our wide range of timber windows and doors.
Combining traditional methods with modern technology they are able to deliver a window like no other, a sash that is authentic in appearance but skillfully crafted making it extremely practical for the homeowner.
Our timber suppliers all carry FSC certification so you can be assured the timber is not logged from illegal resources and originate from a properly managed forest.
All sash windows at GHI come in two different operating designs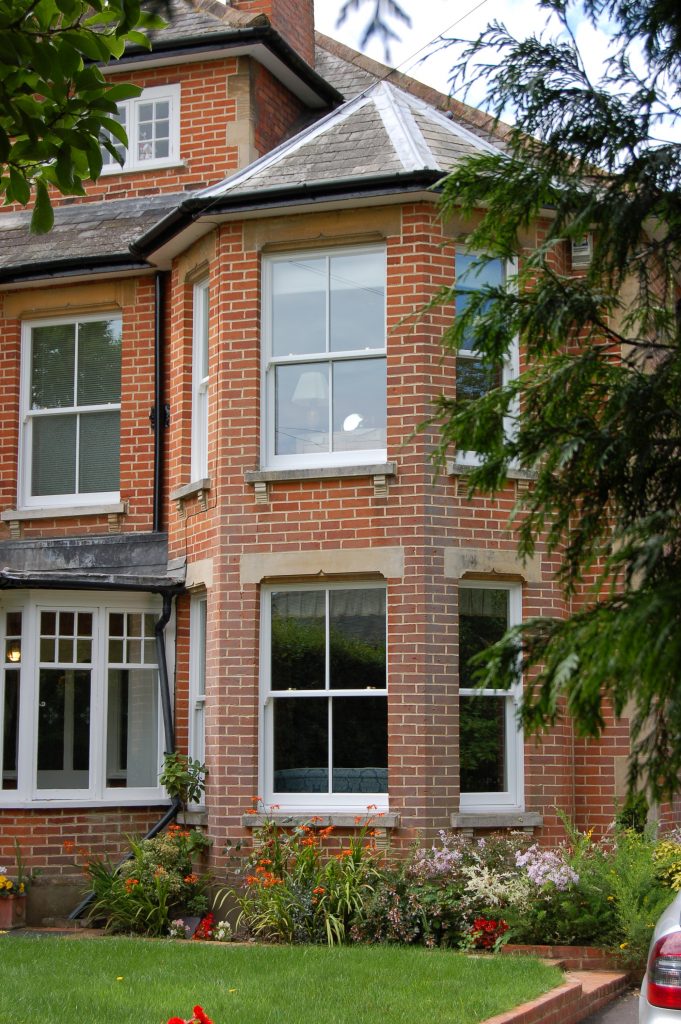 Spiral Balance
This method is based on traditional weights and pulleys, extremely similar yet more affordable. They feature all the beauty of traditional sash furniture such as fitch fasteners, sash pulls and sash lifts but the vertical sliding action is achieved by a spring that is weighted to the sash. This delivers a smooth operation.
Weights and pulleys system
This particular operating system dates back to the 17th century. The window operates via a weight that is located in a box section of the outer frame of the window. The weights are connected via a cord, over a wheeled pulley creating the smoothest operation and aesthetically projects a great period look.
The quality of our materials are paramount to our high standards. Whether traditional timber or PVCu, our market leading products really will give your home the most aesthetic look with all year round performance.