Old, Cold Draughty Windows and Doors and High Heating Bills?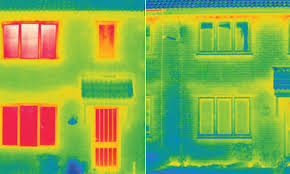 Then it is likely that you'll be losing up to 20% of heat through old or badly fitted windows and doors! Or if your windows only have single glazing then it's likely that you'll be losing up to 20% of heat through them alone. Perhaps you're just feeling the cold draughts during the cold weather or more alarmingly are blissfully unaware that you're losing so much heat until a very large energy bill arrives. Help is at hand with Guild Home Improvements covering South East London, Surrey and Sussex.
uPVC Windows and doors account for a significant portion of heat loss in our homes and, therefore, any measures you can take to prevent this happening are worthwhile and will help save on your energy bills.
According to the Energy Saving Trust in an uninsulated home:
66% of heat loss is through uninsulated solid walls
33% of heat loss is through uninsulated walls
25% heat loss through the loft/roof space
20% heat loss through windows and doors
Heat energy is transferred from homes by conduction through the walls, floor, roof and windows. It is also transferred from homes by convection. Cold air can enter the house through gaps in doors and windows and convection currents can transfer heat energy in the loft to the roof tiles. Heat energy also leaves the house by radiation through the walls, roof and windows.
So how does energy efficient glazing work?
Double-glazed windows have two sheets of glass with a gap in between, usually about 16mm, to create an insulating barrier that keeps heat in. This is sometimes filled with gas. Triple-glazed windows have three sheets of glass but aren't always better than double-glazed windows. To choose the most energy-efficient window look for the BFRC rating.
Energy-efficient windows come in a range of frame materials and styles and performance criterias can show how well do they do to stop heat passing through the window, air leaking in or out, and how much sunlight travels through the glass. Installing A-rated double glazing in an entirely single-glazed house could save £80 to £110 per year off the heating bills of a typical semi-detached home and provide a much warmer and quieter home.
​Very efficient windows might use gases such as argon in the gap between the sheets of glass. Pane spacers are also set around inside edges, this keeps the two panes of glass apart, it is advisable to look for warm edge spacers, they contain little or no metal.
For all frame materials there are windows available in all energy ratings
Composite frames have an inner timber frame covered with aluminium or plastic reducing the need for maintenance and keeps the frame weatherproof
PVCu frames last a long time and may be recycled
Timber frames can have a lower environmental impact, but require maintenance. They are often used in conservation areas where the original windows had timber frames. They are also considerably higher in price than other window options.
Aluminium or steel frames are slim and long-lasting and may be recycled.
Ventilation
Replacement windows will be more airtight than your original frames, so condensation may build up in your house due to the reduced ventilation. If your house does not have much background ventilation, look for replacement windows with trickle vents incorporated into the frame to let in a controlled amount of ventilation.
Energy-efficient doors
As with other areas of the home, doors can be insulated and draught-proofed to prevent heat from escaping, a new properly fitted new external door should include an effective draught-proofing system. Existing doors can be improved by fitting draught-proofing strips around the seals and the letterbox. Fitting draught-proofing to the doors and windows will save the typical household between £25 and £35 a year.
The Heritage Collection
The Heritage Collection from Guild Home Improvements is a suite of premium, composite, window systems that are ideal for stately, Georgian, Victorian and modern homes, replicating original timber flush windows with the advantages of modern double glazing. In fact, they are the only timber alternative windows to have working original furniture and come in a variety of heritage colours and wood effect finishes. This helps to drive down the cost of timber replacement windows and removes any maintenance concerns for years to come.
The collection incorporates both Flush sash windows and Storm sash options in varying frame depths of 70mm, 75mm and 100mm. Each window is also extremely durable and the range includes a full catalogue of ancillaries comprising of multi-angle bays, couplers, Georgian bars, cills and hardware. What's more, all windows come with a 10-year insurance backed guarantee and they are also A+ energy rated and deliver PAS 24 enhanced security performance as standard.
Endurance door collection
If you're looking to banish your old, draughty, external front door and upgrade to a stylish new modern door then the Endurance collection from GHI Windows is second to none. Endurance is a very popular brand renowned for its strength and security without compromising on style. Endurance specialise in providing a timber core unlike most composite doors that tend to use foam. At 48mm thick and with cross bonded laminations, they are also 10% thicker than most composite doors and have over 50 different door designs to choose from. Our 1930's inspired Endurance Walton door is a huge hit in Epsom thanks to the abundance of 1930's style properties locally and in the surrounding areas. For full details on our Endurance collection download the brochure today.
Why not contact GHI Windows and ask for a free, non-obligation quotation or visit one of our stylish showrooms in Weybridge, Epsom and Carshalton and find out how you can make your home 20% more energy efficient today, in more ways than one!
Categories: Energy Efficiency
Tags: Double Glazing, Energy Efficient Doors, Energy Efficient Windows