Case Study: Aluminium Sliding Doors & Roof Lantern Installation in Walton on Thames
Our client in Walton on Thames was looking for a way to improve their property. They were building a brand new kitchen extension and decided that they wanted a brand new set of aluminium sliding doors to complete the look.
By adding sliding doors into this extension, our clients were able to create a beautiful modern living space for their family to use. The addition of sliding doors helps to illuminate the extension, whilst providing the perfect entrance/exit point to and from their garden.
We installed the InfiniGlide 3 sliding doors, manufactured in robust aluminium materials. The market leading profile has been styled and manufactured to ensure that this Walton on Thames property benefits from beautiful designs combined with efficient and long lasting functionality.
Additionally, we were also able to install our impressive Korniche roof lanterns into the extension, the perfect solution to fill the space with great amounts of natural light.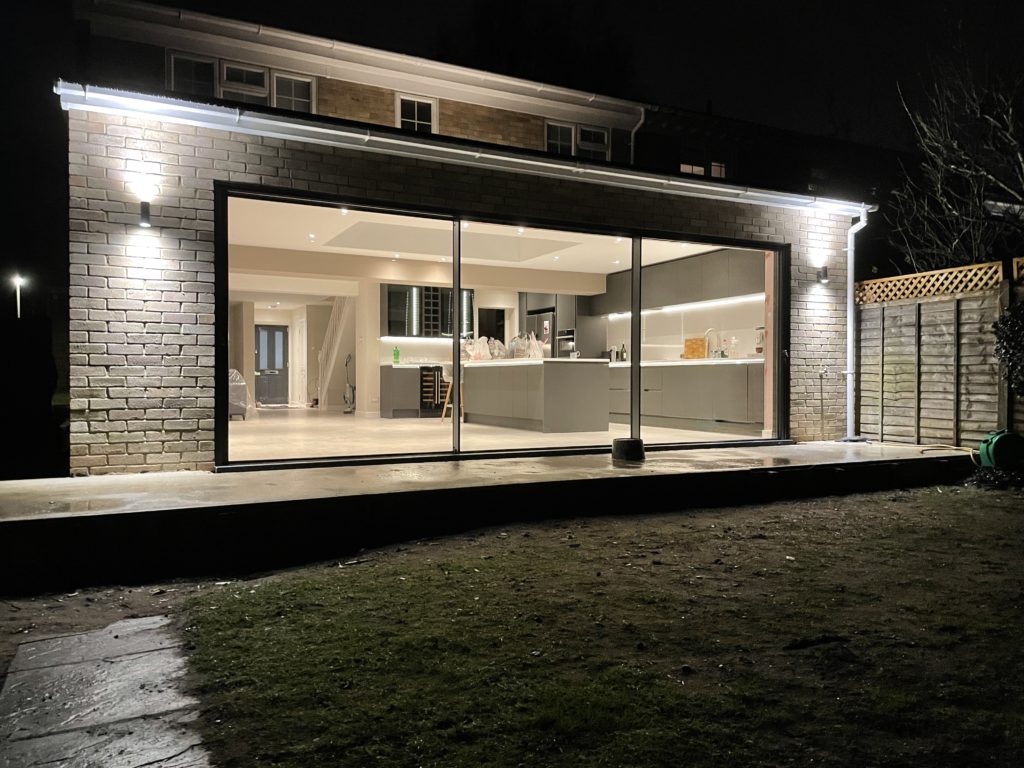 Slimline Aluminium Sliding Doors
Within this extension, we wanted to create a virtually frameless aesthetic, that would allow the clients to enjoy almost unobstructed views of their exterior surroundings. Choosing the InfiniGlide 3 sliding doors, we were able to achieve this.
The profiles feature a 20mm interlock and a frame size of 5.8 metres wide x 2.2 metres high, which provides this minimal frame visual. The added benefit of this virtually frameless design ensures that this fantastic extension space can benefit from increased light transmission, thus allowing the space to appear brighter for longer.
To match the modern style of the extension and the roof lantern design, the aluminium sliding doors were finished in RAL shade 7016 – an Anthracite Grey colour. This is such a stunning colour choice for this property, and truly complements the style of the building.
The sliding door panels are designed for smooth operation, with all the panels of the doors allowed to move for flexibility on opening. Additionally, we finished off the look of the InfiniGlide sliding doors with contemporary and discreet handles. This gives the overall look a minimalistic feel allowing the clients to focus on the breathtaking views from the large scale expanses of glass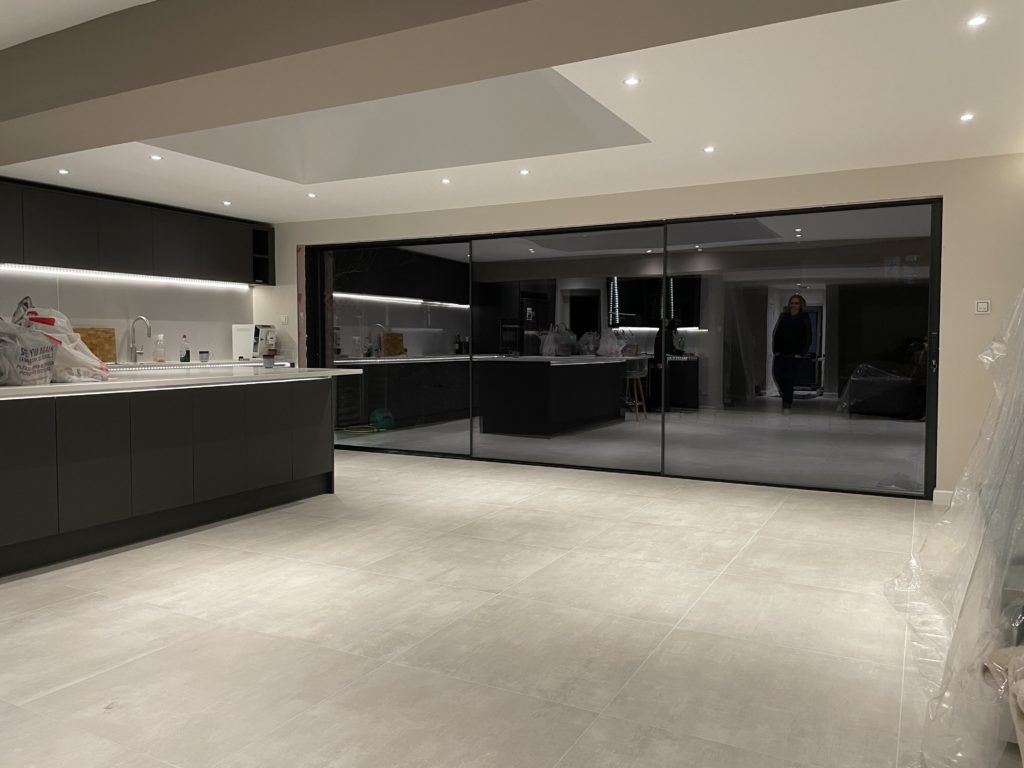 Bespoke Korniche Roof Lantern
Along with installing our InfiniGlide sliding doors into this modern extension, we also installed this stunning roof lantern from Korniche.
Our clients wanted a living area that they could impress their guests in and create a modern room for all to enjoy. The addition of a roof lantern allows the room to be flooded with light, creating a spacious and airy space. The frames are ultra slim to further enhance light allowance.
Our clients can not only enjoy the stunning designs, but our impressive lantern roofs can also provide the property with greater protection against adverse weather. Manufactured using robust aluminium materials and toughened glazing, these roof lanterns are designed to stand the test of time.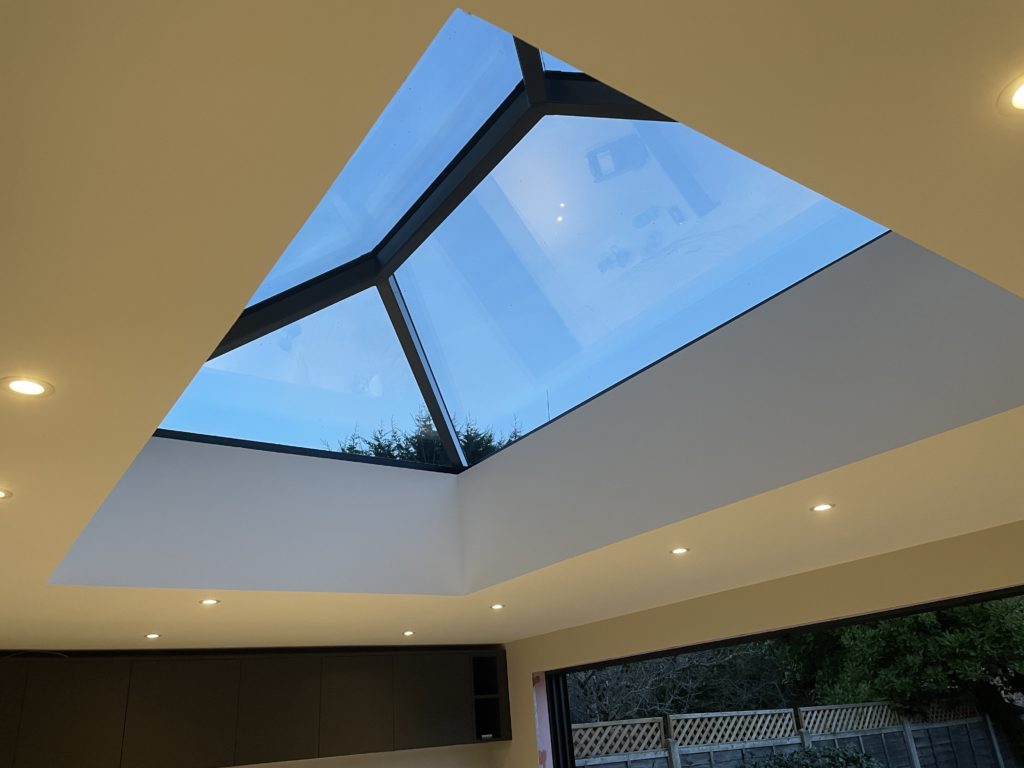 Aluminium Sliding Doors Prices
If you are interested in upgrading your home with sliding doors just like our clients did, then please get in touch with our team today. We can provide you with a stunning collection of aluminium sliding doors or bespoke roof lanterns for your Walton on Thames home.
What's more, is that we can offer you competitive and affordable prices for your new home improvements. Why not try our online quoting engine, and you can receive a personalised price for your project.
If you would rather discuss anything with our team, then you can give us a call on 0800 731 4582.